Alexandria Ocasio-Cortez, una latina haciendo historia en la política de EU
0
---
Por: Andy Flores / Instagram: @andymckf
Ella es una mujer activista perteneciente al partido Demócrata que está haciendo historia en Estados Unidos gracias a que ganó la candidatura para el Distrito 14 (El Bronx) en Nueva York, su lugar de nacimiento. Al ser una de las personas más jóvenes en obtener un puesto en el Congreso, ella luchará para que todos tengan puedan tener acceso a la salud médica (Medicare) y también por los inmigrantes, debido a las leyes impuestas por el Presidente actual Donald Trump.
Su vida dentro de la política comienza cuando en el 2016 es parte del equipo del candidato Bernie Sanders, quien se postuló para las elecciones primarias de ese año. Tiempo después en el 2017, decidió comenzar su campaña contra un fuerte contrincante: Joe Crowley, quien perdió los distritos de Queens y The Bronx contra Ocasio. Sin duda, ella se ha manifestado de manera constante en sus redes sociales sobre su vida privada y su experiencia en la polémica política de Estados Unidos, dando su opinión acerca de las leyes que Trump impone en relación a diversos temas.
Con todo el apoyo de la clase obrera y los jóvenes en busca de nuevas oportunidades, Ocasio está haciendo todo lo posible para proteger y brindar mejores servicios a su gente. Aún con todas las polémicas que la rodean, ella no se dejará vencer por nada ni nadie y, sin dudarlo, es una mujer digna de admirar que demuestra que todas podemos tener nuestro lugar en la política para luchar.
Si deseas conocer más sobre ella, encuéntrala en Twitter e Instagram.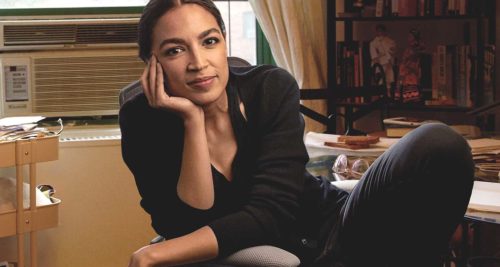 Fuentes: CNN, Vanity Fair, El País / Fotografias: Vogue, The Intercept
0
---
Compartir
---
Artículos relacionados
¡No te pierdas los próximos conciertos!
Ver más
Revistas
Elige una revista para conocer más
---